Mazda Service Center near Irvine, CA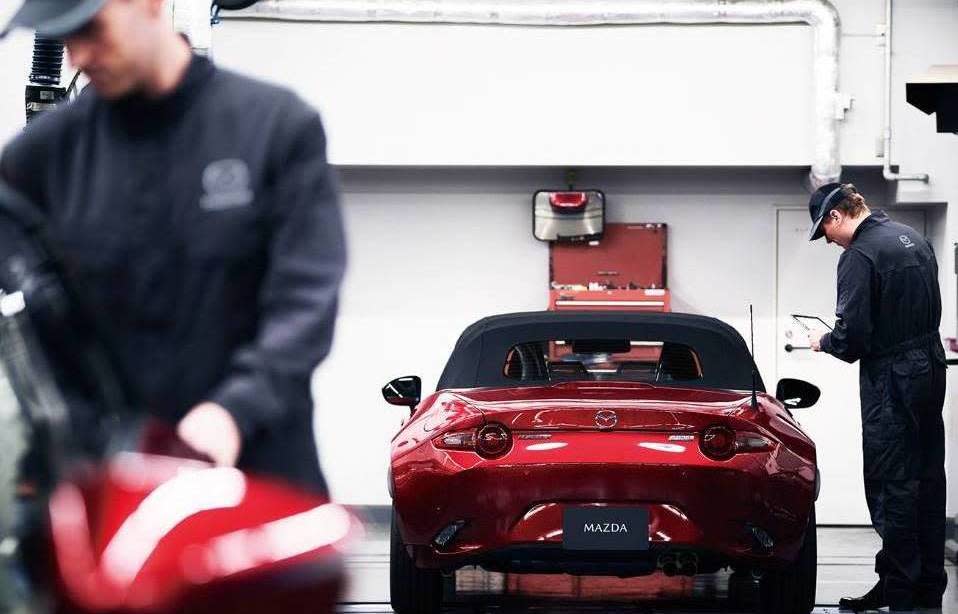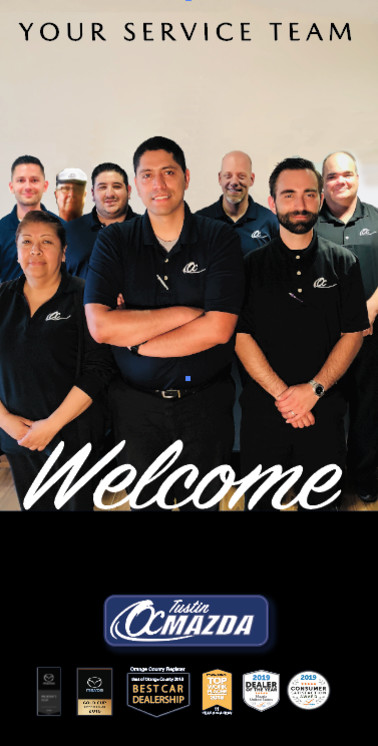 Why settle for a service department that isn't specialized to treat your Mazda right when you can get the quality care you desire from Tustin Mazda? With our knowledgeable mechanics and high-tech resources, you can be sure that your Mazda3, Mazda CX-5, or Mazda MX-5 Miata will be handled the way you want.
Service Department
When it comes to proper vehicle maintenance, you'll need to find a location that is equipped to accommodate your car's needs. Luckily, we provide the care you're after at our convenient location, 28 Auto Center Drive in Tustin, CA. Whether you need a simple procedure like an oil change or something more complex like body work, you can put your trust in our team. That being said, individuals who prefer handling tasks on their own will still be provided for, as we also house a Parts Department that has all the components you could want. If you are in need of something we don't have on hand, we'd also be happy to order it for you!
Online Resources
Now that you know more about what to expect from Tustin Mazda, it's time to talk about our easy-to-use online tools. First up is the Ask a Tech form, which provides a convenient way to ask our team specific questions before your visit. After filling in the blanks and hitting submit, our team will work tirelessly to provide you with an answer. From there, you can also see any recent safety recalls on the Service Department page of our website. Last but not least, you can use our Schedule Appointment form to secure yourself a time slot for your visit. If you happen to find time in the week to make your way to us, you're also welcome to show up unannounced.
Special Prices
One thing that prevents people from getting the routine maintenance they require is the prices. Fortunately, you won't have to worry about spending an arm and a leg at our dealership since we do everything we can to keep your costs at a minimum. We do this through our many coupons and discounts, which you can access by tapping on the corresponding tab above. If you don't see a coupon you can make use of initially, just check back again in a few weeks to see if things have changed. On top of that, consider having multiple tasks performed the same day if you find deals you want to take advantage of.
If your vehicle is in need of attention, we hope you stop by Tustin Mazda and meet with our team in the Mazda Service Center near Irvine, CA. See you in the near future!
Sales Hours
714-361-2142
| | |
| --- | --- |
| Monday | 11:00 am - 7:00 pm |
| Tuesday | 11:00 am - 7:00 pm |
| Wednesday | 11:00 am - 7:00 pm |
| Thursday | 11:00 am - 7:00 pm |
| Friday | 11:00 am - 7:00 pm |
| Saturday | 10:00 am - 7:00 pm |
| Sunday | Closed |
Testimonials
A passionate and knowledgeable sales people is the key to...
CARS
4-4-2020
Great!
CARS
4-2-2020
YELP
4-2-2020
YELP
4-1-2020
Love this dealership! Kevin took great care of me! He's...
CARS
3-31-2020
Exceptional service
CARS
3-24-2020
I am so happy with my new car, the service was excellent,...
CARS
3-22-2020
YELP
3-20-2020
YELP
3-12-2020
Javier was straight forward and answered every question...
CARS
3-12-2020
Thank you Omar!
CARS
3-12-2020
YELP
3-11-2020
A VERY EASY AND STRESS FREE EXPERIENCE!
CARS
3-11-2020
Chance made my car buying experience simple and amazing!!!
CARS
3-10-2020
Larry and Tustin Mazda made my car buying/leasing...
CARS
3-10-2020
YELP
3-9-2020
Chance was great to work with. He took the time to listen...
CARS
3-9-2020
Javier was extremely helpful and informative! He made the...
CARS
3-8-2020
New 2020 Mazda 3 HB
CARS
3-7-2020
Friendly, courteous and professional
CARS
3-7-2020
This was an amazing car buying experience. Larry was...
CARS
3-7-2020
Dreaded the idea of even thinking about the process of...
CARS
3-5-2020
Excellent Customer Service - Omar is the Best!
CARS
3-5-2020
Jim's customer service is beyond exceptional!
CARS
3-5-2020
GOOGLE
3-5-2020
YELP
3-5-2020
YELP
3-5-2020
YELP
3-4-2020
Omar's Customer Service is Exceptional! Easiest Buy Ever.
CARS
3-4-2020
Tracey and I had a first class experience. From the...
CARS
3-4-2020
Larry was very helpful and I'm glad to have him as my...
CARS
3-1-2020
YELP
3-1-2020
Thanks for all your help! Because of my unusual financing...
CARS
3-1-2020
Rossi Is Wonderful - Best Car Buying Experience
CARS
2-29-2020
Rossi was super helpful and professional with a...
CARS
2-29-2020
Rossi made the car lease experience smooth and easy,...
CARS
2-29-2020
This was by far one of the best car buying experiences...
CARS
2-28-2020
Great Experience
CARS
2-27-2020
YELP
2-27-2020
Kevin and everyone else at oc Mazda went well above and...
CARS
2-27-2020
After getting some offers on my wife's 2012 Honda Civic...
CARS
2-26-2020
Jim is a pro -- did not try to sell me, just answered my...
CARS
2-24-2020
I LOVE OC MAZDA!! Kevin and the whole team provide the...
CARS
2-22-2020
Larry was great and the service was great I'm very happy...
CARS
2-22-2020
This was a very good car purchasing experience. Always I...
CARS
2-21-2020
I had a great experience from when I first went to look...
CARS
2-21-2020
CX-5 Prestige purchase/Jim Feinstein
CARS
2-20-2020
Read More